New Season starts October 15th, 2022!
We are a registered Vaulting Club with the American Vaulting Association (AVA). We are currently the only registered club in ALASKA! Our club name is Arctic Mustang Vaulting, we only use mustangs for our vaulting program here in Alaska. We have a few different mustangs here at Branded Arctic Acres who will be providing our students with the exciting opportunity to experience equestrian vaulting.
Our main vaulting horse, S'mores is a 7 year old mustang from Nevada. He has had extensive training and has proven to be a very reliable partner for equestrian vaulting. Nothing bothers him and he loves all the attention! He is our biggest mustang, especially since most mustangs tend to be a little smaller. He is definitely built for the job and really loves it! He will be traveling to the lower 48 to compete next year or the year after (maybe both!) with his vaulters!
Our vaulting club will practice as a team. We will hold two practices a week per level. This will give you options to pay for once or twice a week practices. Practices are done on a monthly basis, instead of individual practice sessions.
Practice
-Arrive 10mins prior to the beginning of your practice, be ready to warm up (or keep warm in the winter!).
-We will warm up as a group with some exercises that focus on our core, arms, and legs. We will also do a lot of stretching for the muscle groups that will be focused on during that particular practice.
-Go over what we will be practicing on the barrel and horse for the day. Watch a demonstration and then take turns on the barrel (while encouraging each other).
-Get the horse groomed and tacked. Tacking a vaulting horse takes a little time with all of the equipment that is needed. We will also check the equipment while it is being put on to ensure it is all in working order for safety reasons.
-Let the lunger warm the horse up with the equipment while the vaulters go over what will be practiced and practice the proper form and etiquette of a vaulter when entering the ring.
-Take turns mounting the horse and performing the vaulting routine or practice to build strength and proficiency.
-Once all vaulters have had their time on the horse, the vaulters will work together to untack, groom, and properly cool out the horse and put him back in his stall.
-Lastly we will meet as a group for our closeout of that practice.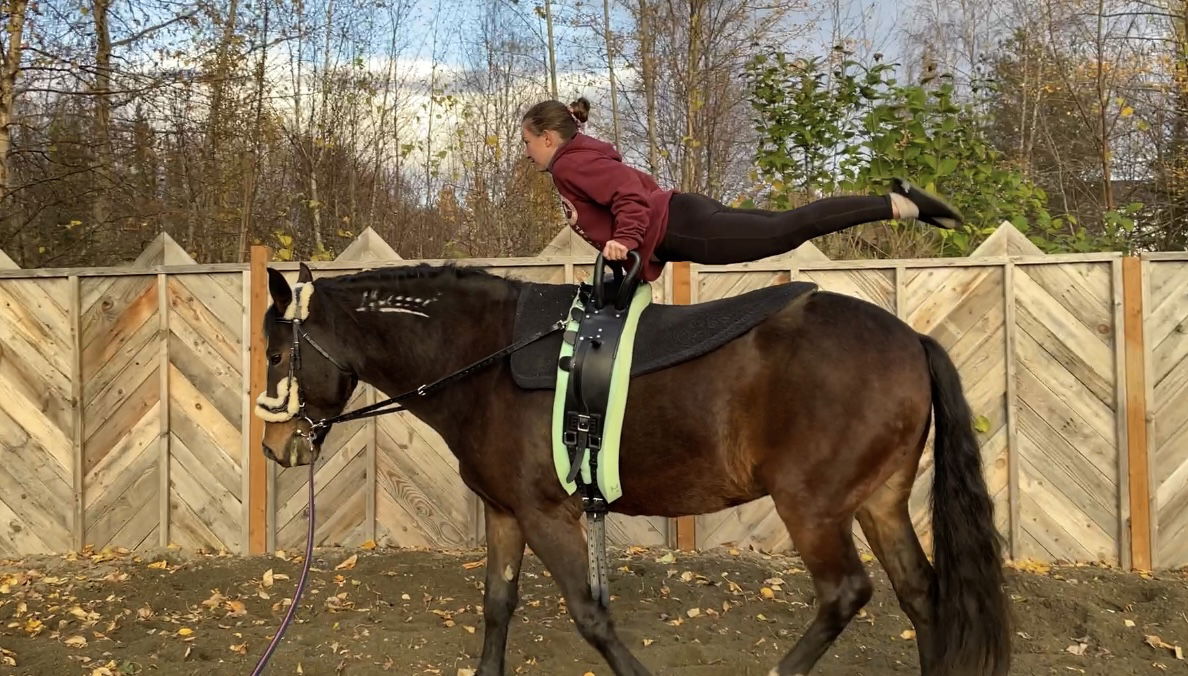 Don't worry, we practice throughout the year! We will utilize the barrel for those very cold days!
SCHEDULE
LEVEL

COST

(Per Month)

X PER WEEK

DESCRIPTION

Meet Up

Recreation
$200
1 time per week
This level is for anyone who would like to become more familiar with equestrian vaulting, looking for a new activity, or who would like to work towards the competition level.
This team meets on Thursdays from 6-8pm (depending on the number participants)










Competition
$450
2 times per week
This level is for those who are serious about equestrian vaulting, know and understand the basics of vaulting, and would like to work to competing both in-house, virtually, and out of state.
This team meets on Monday from 4-6pm
&
Wednesday from 5-7pm